THE SOUTHERN RETREAT, APRIL 27-28, GREENVILLE, SC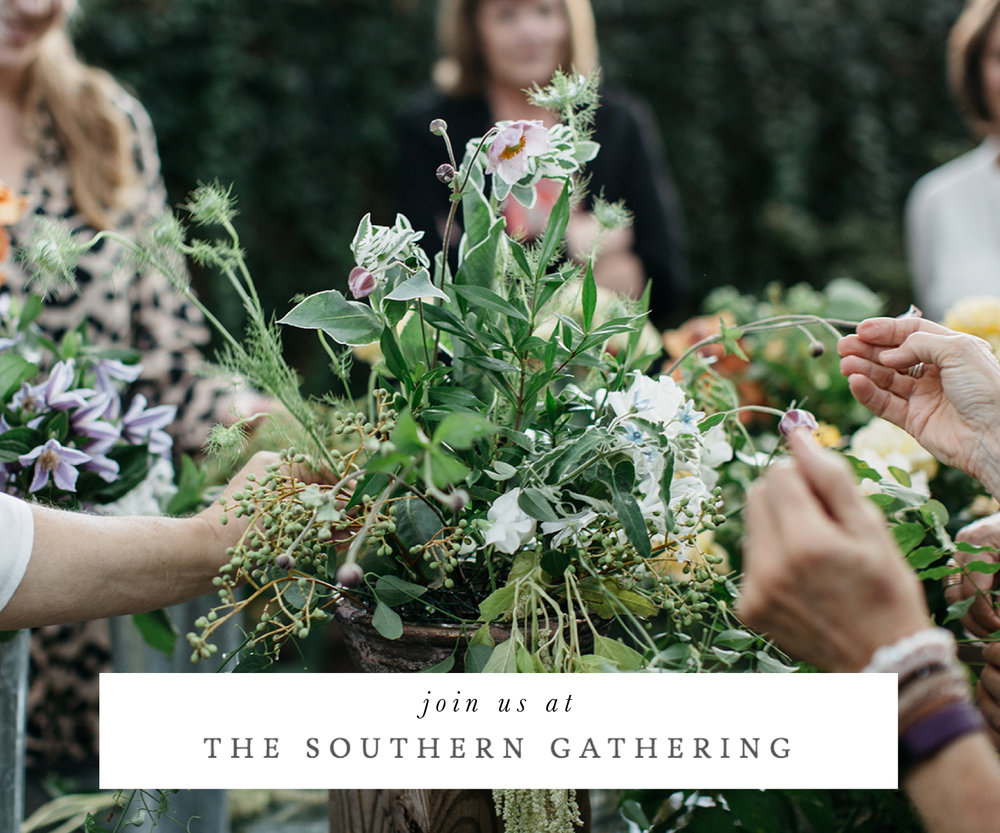 THE SOUTHERN RETREAT, APRIL 27-28, GREENVILLE, SC
(please visit willowgathering.com to officially register)
Join us in the garden of a beautiful southern home for a creative retreat focused on finding inspiration in nature and interpreting that inspiration into art, design, and usable goods.
This gathering will be relaxed and refreshing as we each learn new skills from talented artists, linger over a handmade-lunch, and enjoy refreshing afternoon cocktails and wine. Workshops in oil botanical painting, floral arranging with locally grown blooms, and natural plant dyeing.
We will forage for greenery to use in our floral designs, then, using that same inspiration, create multi-layered botanical paintings in the afternoon sun.
HOSTS AND WORKSHOP LEADERS
JULIE DODDS: FLORAL DESIGN

EMILY JEFFORDS: OIL PAINTING

JESSICA BARLEY: NATURAL FABRIC DYEING

BETH ABLES: RETREAT CHEF
THIS WORKSHOP IS INTENDED FOR ANYONE WISHING TO LEARN A NEW CREATIVE MEDIUM, OR FURTHER DEVELOP THEIR SKILLS; BEGINNER TO ADVANCED.
DETAILS
Dates: Friday, April 27 - Saturday, April 28th
Greenville, South Carolina
all supplies included along with brunch, lunch, and wine both days, as well as dinner on Friday.
You may wish to bring your own camera.
Airfare, lodging, and transportation are not included.
SCHEDULE
Friday:
10:00 am welcome and first workshop (fabric dyeing)
1:00 lunch by our local chef
2:00 second workshop (floral design)
4:30 wine and break for refreshment
7:30 dinner in the garden (if weather permits)
Saturday:
10:00 am brunch and coffee
10:30 third workshop (oil painting)
1:00 lunch
2:00 continue oil painting workshop or work on group floral installation
4:00 cocktails, refreshments, and send off
Not Included :
drinks or meals off premises
Airfare (most participants fly in and out of GSP)
Transportation (Greenville is easy to get around if you chose to drive + has many Uber / taxi options)
Travel insurance
lodging (the home and gardens where we will be hosting the retreat is near downtown and there are many nice hotels and AirBnBs close by.)
*Tickets are non-refundable
You are welcome to transfer your ticket to a friend up to 1 week prior to the retreat.
Use the code "RetreatDeposit" to pay 50% now and 50% on April 17th
Have questions? Email Julie at hello@willowgathering.com
We look forward to meeting you
sold out